Back to Events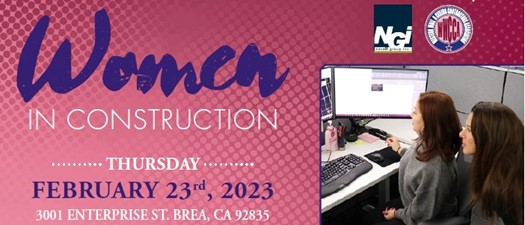 WIC - February Meeting NGi
Women In Construction
Thursday, February 23, 2023
Event Details
RECOGNIZING ACHIEVEMENTS AMONG WOMEN IN CONSTRUCTION.
We believe in the importance of recognizing and honoring the achievements of women who are making a positive impact within this industry.
Please join us in recognizing women whose contributions are breaking barriers inspiring others and advancing the industry.
If you would like to attend or nominate a woman working in construction making a notable impact to elevate the industry, please let us know!
Participants are welcome to nominate themselves for notable work in construction.
Forward this invitation to others who would like to attend and send nominations.
* Wine and appertizers povided.